It's the time of year to celebrate with loved ones, use the fireplace once again, and enjoy all that winter has to offer. But as Jack Frost starts to knock, it's important to be mindful of fire safety as the season for home fires is also upon us. Every year residential fires cause billions of dollars in losses. However, in addition to monetary losses, these fires also result in thousands of injuries and deaths annually.  
The Impact and Causes of Residential Fires
A recent report from the U.S. Fire Administration examined the leading causes of residential fires between 2008 and 2017. All of this data is pulled from the USFA's National Fire Incident Reporting System. We have taken it upon ourselves to dive into this report and pull out all the information that you need to know about fires in the home and how you can keep your family safe.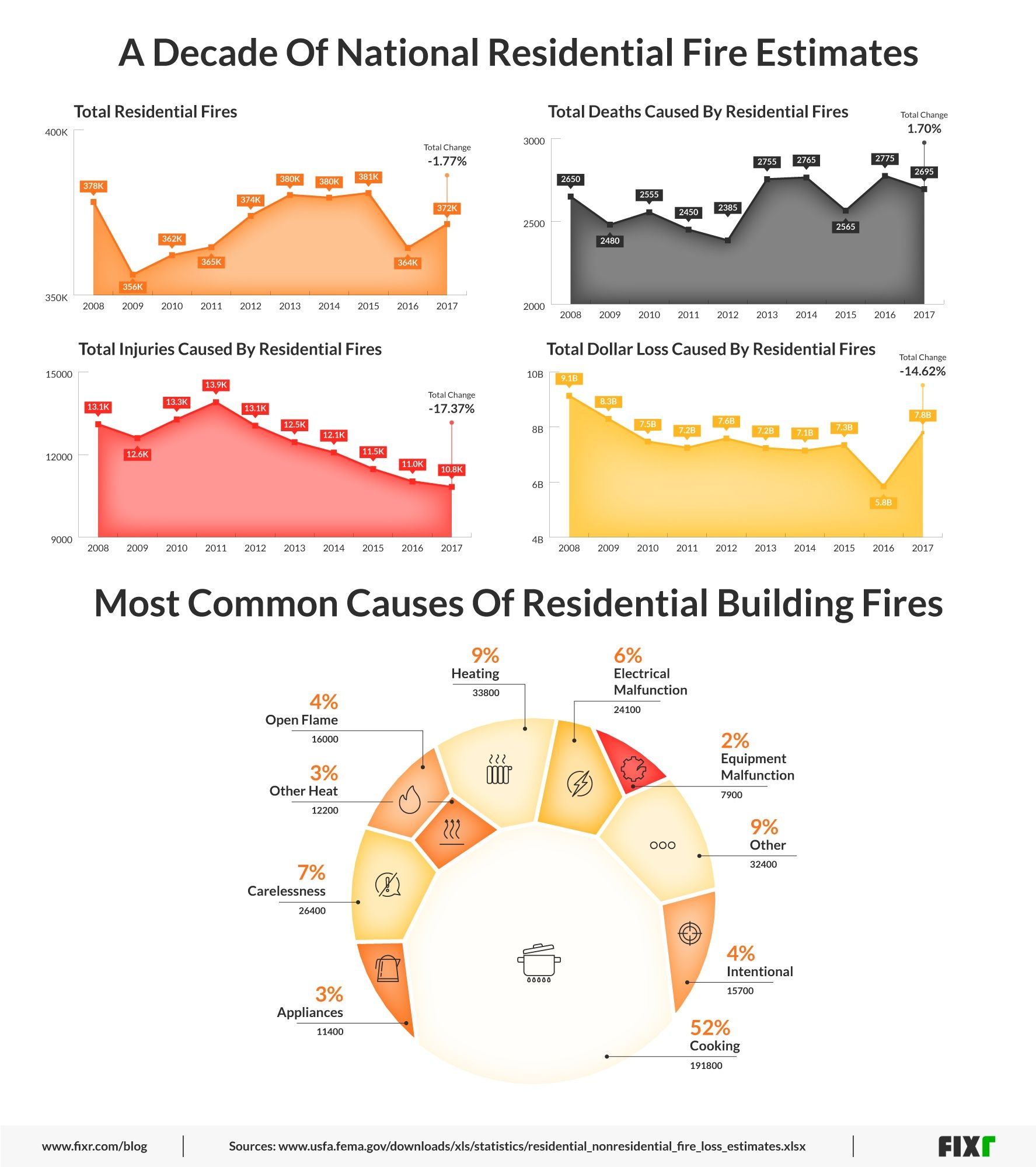 This graphic visualizes the number of residential fires, the deaths caused by these fires, the injuries caused by these fires, and the amount of dollar loses caused by residential fires annually. These figures look at these numbers over a 10 year period, with 2017 being the most recent data. We have also shown what the most common causes of residential fires are, with cooking accounting for more than half of all residential fires.
Fires Are Becoming More Deadly
Though there has been a 1.8% decrease in fires over this ten year period, deaths resulting from residential fires have increased 1.7% over this same period. This indicates a declining trend in the number of fires, but a cautionary uptick in the severity and effects of the fires.
Contributing Factors To Fire Damage
Beyond the causes of fires, there are systemic issues that contribute to the increase in residential fire damage. One of these issues includes code deregulation, resulting in fewer requirements for fire detection, suppression, and fire safety measures. Another contributing factor to house fire damage is fire department budget cuts, which reduce the available resources to fight these fires. This also causes a delay in response time, which could be a contributing factor to the increase in fire deaths seen in the report.
Why There Are More Deaths
Modern culture encourages people to own more stuff. This has resulted in a hoarding culture, which in turn increases the fire load when a home does catch on fire. Having more stuff in the home worsens the occupant's chance of escaping the burning home. Meanwhile, it also increases the chance of firefighter injury as exits are often blocked and there is a risk of falling objects. Another possible factor contributing to more deaths from fires is the aging population. As the population becomes older, it becomes more difficult for them to escape a burning home. With older generations living at home by themselves, the risk of them dying in a home fire is very real.
The Causes of Fires
The holiday season is a time when there is more cooking in the home, furnaces are turned on, space heaters are fired up, and fireplaces are used once again. This all contributes to turning winter into residential fire season. In fact, cooking accounts for more than half of all residential fires. That's almost 192,000 fires each year! Other causes are far behind, with heating being the next leading cause, accounting for almost 34,000 fires each year. Other heat-related fires, open flames, and carelessness are other factors that lead to house fires during this time of year, accounting for another 54,600 fires. The remaining house fires are the result of an electrical malfunction, faulty appliances, equipment malfunction, intentional setting, and other causes. This indicates that taking preventative measures can make an impact on preventing residential fires.
Prevention Can Make an Impact
While there is no denying that the number of fires and related deaths is increasing, it is important to also look at the decline in injuries as a result of fires. The report from the US Fire Administration looks into the different causes of fire injuries over the 10-year period. What is seen is that the injuries from cooking, open flames, electrical malfunction, and smoking have declined since 2012. However, injuries have increased for other unintentional, careless injuries as well as injuries from intentional fires.
Smoke Detectors
This decline in fire injuries could be caused by many different factors, with one probable cause being the growth in preventative measures being taken. As injuries have declined, the smoke detector industry has risen. This growth in the market is seen because it is one of the best preventative measures that can easily be installed in your own home. Smoke detectors range from $10-$80 per device depending on which type you choose to install and its sensitivity.    
Carbon Monoxide Detectors
Whenever you have an appliance that burns fuel, there is a risk for carbon monoxide. This includes gas water heaters, fuel-fired furnaces, fireplaces, wood stoves, and gas stoves. It is colorless, odorless, tasteless, and toxic. Carbon monoxide can cause both injury and death from malfunctioning or improperly used equipment. Carbon monoxide detectors can easily be found at a big box store or your local hardware store and will set you back about $20. It's advisable to put them next to bedrooms as well as next to heating appliances.
Fire Extinguishers
With most residential fires starting in the kitchen, having a fire extinguisher on hand can help prevent fires from spreading and causing major damage to the home, injury, or even death. A fire extinguisher can help you put out a small fire and keep it from growing into a bigger problem. Ideally, you should keep one on each floor of your home in the kitchen and next to heating appliances. They typically last six years and cost around $45.  
Other Preventative Measures
There are several other preventative measures that you can take to help keep your home from going up in flames. This includes things like chimney cap spark arrestors, heat sensors, sprinkler systems, and keeping fire blankets on hand. You can also get special smoke detectors installed for the deaf or hard of hearing.
You can even go a step further and have things on hand to help you and your loved ones safely get out of a house fire, should it ever happen. You could opt to have thermal imaging detection equipment on hand or even smoke masks. Regardless of the preventative systems you choose to install, you don't have to do it alone. You can easily hire an electrician to help you install a basic smoke alarm system or work with a specialized team to install a sprinkler system in your home.
Being Proactive Makes a Difference
In short, residential fires are not to be taken lightly. They have serious consequences and happen more often than you might realize. As we all hunker down for the winter, it is important to make sure we have the proper preventative measures in place to keep our homes and our loved ones safe and sound. Most importantly, however, it's important to always be cautious and aware. Pay close attention when cooking and baking and make sure you are using all of your equipment, heaters, and appliances properly to prevent any fire from starting.